You can make a Difference
Being a Central Rivers AEA team member means becoming part of something bigger. It means making a difference in the lives of students and educators and changing the world one relationship at a time. This isn't a job – it's a career and an opportunity to leave a lasting impact on those we serve.
---
Explore Our Careers
We are professionals who work directly with children, families and the schools we serve. Our roles provide leadership and professional learning to educators in curriculum, instruction, assessment, and school improvement.
---
What makes us an "Iowa Top Workplace"
Our benefits and wellness programs are tailored to provide security, comfort, and an opportunity for a flexible and well-balanced life. Your total package includes your salary, benefits and retirement savings (IPERS).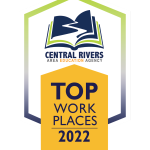 EEO – Affirmative Action Employer
Central Rivers Area Education Agency is an EQUAL OPPORTUNITY-AFFIRMATIVE ACTION EMPLOYER.
It is the policy of Central Rivers AEA not to discriminate on the basis of race, color, creed, gender, marital status, national origin, religion, age, sexual orientation, gender identity, socio-economic background or disability in its educational programs, activities, or employment policies as required by all applicable Equal Employment Opportunity and Affirmative Action laws, directives, and regulations of federal, state and local governing bodies and agencies.
This obligation to affirmatively implement equal employment opportunity to all employees and applicants for employment includes hiring, placement, upgrading, transfer or demotion, recruitment, advertising or solicitation for employment, treatment during employment, rates of pay or other forms of compensation, and layoff or termination.
Inquiries regarding compliance with this policy may be directed to Central Rivers AEA Equity Coordinator, Central Rivers Area Education Agency, 1521 Technology Parkway, Cedar Falls, Iowa, 319-273-8200.